My baby has just finished her high school career. Even before moving to South America over 6 years ago, she was homeschooled in what I felt like was a pretty solid plan. From her preschool years of learning red and blue while she colored at the table beside me or learning to count while we drove around town, I've always imagined her slightly-less-than-traditional schooling to lead her right into some lovely scholarships that would pave the way to a challenging yet rewarding degree, ushering her into a fulfilling and lucrative career. Yep, that toddler in the car seat had a shining educational path ahead of her.
Then she tells me she doesn't want to go.
Wait a minute. I was envisioning missionary kid grants and homeschooler scholarships and CLEPping out of tons of classes. I saw her connecting with the peers she missed so much and getting back into American culture and laughing as she made her way across campus to her next exciting class, just after leaving some fun extracurricular activity like FCA or the Christian Students Club.
But she doesn't want to go.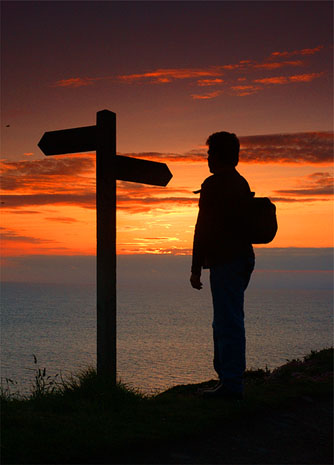 This is a topic that's been coming up off and on for the past two years or so, as she went through the mental checklist of pros and cons for each of her options. We talked about going to a 4-year university where she'd live on campus versus starting at a community college close enough to live with her eager grandparents as she eased back into American culture. We talked about the five months that would pass between when she'd finish her school year and when the US school year would end, and how she could use that time to explore or intern or maybe even travel a little.
But she doesn't want to go.
Don't get me wrong. I'm absolutely, totally thrilled beyond words that I won't be putting her on a plane to leave the nest already. But I had to process her decision much more than she did, I'm afraid. Her logic is solid. She isn't ready to leave our home and she's aware of that. She's looked into other options like studying at a university here, taking online classes, interning, or taking a gap year. The one thing she is sure of when considering those choices is that

...she doesn't want to go.
I had to do some serious soul-searching over my gut reaction, which bordered on panic. I had to remind myself that God has a plan for her that just might be different than the one I'd always imagined. I had to remind other people that she may not do what they (and we) always assumed she would do. I had to remind her that I support her while she figures out this thing called adult life, even if I'm standing here with my jaw on the floor and my brain spinning while I process what she's decided. I had to remind us all that this one decision doesn't put her in a certain box or define her future in the way society might say it does.
And I'm embarrassed at what I came up with when I stopped to think through why I panicked like I did. You know those days when you wonder if you've done irreparable damage by raising kids on the field? This was one of those days. I was stuck deciding if her decision was fear-driven and she just needed me to push her out of the nest so she could learn to fly, or if she honestly needed more time inside our four walls to feel prepared enough for venturing away?
I had to face up to how much of my reaction was from my own fears--Will she be able to survive financially? Did I not do a good enough job homeschooling her to equip her to feel ready for this step? What will people think of her? What will people think of me?
The Lord really had to settle me down and talk me off the ledge. He brought to mind many faces, people I'd consider exemplary adults functioning just fine in the real adult world, who had less than normal beginnings and followed the road less traveled. He took me to the Psalms and reminded me that He knew her before I did, that He planned her personality and her giftings before He placed her in our family--a family He knew would live overseas and not exactly be mothered by June Cleaver.
In the end, I have to admire my baby girl for making this decision on her own, feeling pressure to go in other directions but following her heart. I don't know what God has planned for her, but I trust her future to the One who loaned her to me in the first place.


Had any surprises in your world lately? How did you handle them?
IMAGE SOURCE: openhandweb.org