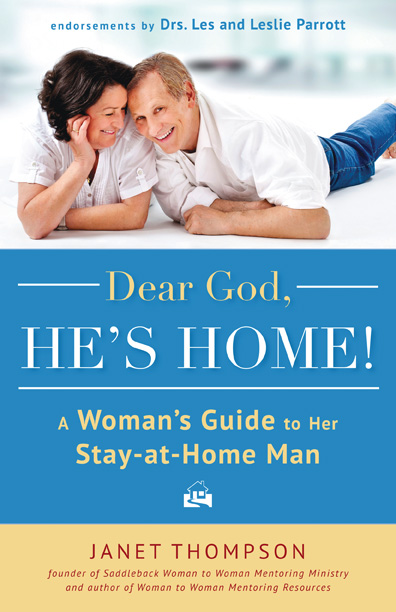 Just me and my man. It's not been
too many
years since we were dating and I dreamed of spending all our days together, giggling while we worked and inspiring each other as we bounced ideas back and forth over dreamy looks and picnic lunches. What could be better than that, right? Um, yeah. Twenty years later, we got that chance when we moved out of the country to conquer the world for Jesus.
And reality set in.
Since our home is the base of operations here, gone are the days of seeing him off to work with a kiss each morning, teaching the kids and running errands all day, then having his dinner ready when he returns in the evening. Everything from mealtime to homeschooling to who goes out for groceries has changed, and everyone in the house has felt the heat from the adjustments.
Defining a new normal has been an unexpected challenge, exacerbated by the fact that there just isn't much support out there for wives like me. So when I saw this book coming out, I jumped at the chance to get my hands on it. Even better, this one was a freebie offered to me by the publisher in exchange for my opinions. Let's just say it was a welcome addition to my e-bookshelf.
OFFICIAL
BOOK DESCRIPTION:
What do you do when your husband calls and says he's lost his job? How do you handle a husband who has been diagnosed with Parkinson's and is now homebound? Will your routine ever get back to normal now that your loving husband who has been deployed for 12 months is now suddenly back at home? Regardless of the reason he's home, one fact is clear . . . he's home.
Dear God, He's Home!
is a practical, honest look at how women can deal with a spouse--regardless of the reason--who is forced to become a stay-at-home man. (**Note: By clicking the title, you'll be directed to Amazon, where the e-book is currently $2.99.)
MY THOUGHTS:
Making the transition from what is considered a traditional family set-up--husband working outside the home, wife considering the house her domain--can be very stressful. Not only has the author (
Janet Thompson
) dealt with the situation several times in her life, but she includes the stories of many others facing this change due to health complications, retirement, unemployment, a home office, or some other development. I found that much of it applied to our situation, even though she didn't specifically include foreign missionaries on her list. ;)
The book is divided into 14 chapters full of examples,
practical advice
, scriptures, a sample prayer, and journaling prompts--yet another reminder that I could benefit from journaling. (
Note to self: Add personal journal to the to-do list.
). Focus, Christie. Focus. Okay.
Each chapter has several smaller sections packed with wisdom, short enough to do each as a daily devotion. The big focus in on
opening up communication
so that both the husband and the wife understand the expectations each has. Several tools are provided to facilitate coming together to shape these expectations into a workable reality.
Although the book is meant to be for the wife, there are parts that can be shared with your husband, such as the sanity tools at the end, and some of the personal stories are from the man's point of view.
The only complaint I might have is that I had a bit of a hard time keeping up with all the real-life examples. There were so many, which is good for helping the reader connect to the book and realize she's not the first person to pass through this. But I began to confuse the stories and couples as the book progressed through snippets from these stories with each section. It's possible that reading a print version of this book would have helped with this, but I had an ebook copy and can't speak as to how the layout affects the ease of reading.
I found the book very thorough, in that it dealt with the emotional, financial, spiritual, and physical aspects of this life change. I've definitely added it to my list of recommended resources for missionary wives coming on the field, and I think that going through it together before the big transition would maximize the benefits.
Is it possible I'm not the only one who struggled a bit with this change? What advice would you give yourself if you could go back to just before the transition?