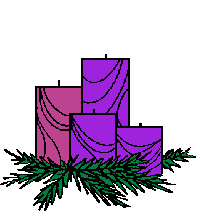 And what do we have planned? On this blog, we'll be providing weekly devotionals that you can print out and use with your family. The traditional time to read them would be each Sunday of the month of December, so they'll be published on Saturdays. Each week has a theme to focus on, and these devotionals are designed to be used with an Advent wreath.
In our own family, we haven't ever had a traditional Advent wreath. Don't worry, if you don't either! You can pull together some candles, with or without greenery or other decorations. My favorite "wreath" that we've ever had looked like this:
Those are plain glass jars, covered with tissue paper, candles placed inside. I'm planning to try to remake it this year. I'd love to see what you use in your family!
We light our candle(s)--the appropriate number for the week--every evening during Advent. So, we'll be using the new devotional reading each Sunday, but also drawing its theme out for a whole week, plus reading a little more Scripture each day.
Posts on this blog will slow down, in order to give the writers more time to quietly focus at home. I was even planning to stop Tuesday Topics, but now we have some good holiday themed discussion starters, so I'll schedule those to post, at least some Tuesdays. I hope you all will participate in the discussion, as you have time.
I'm excited about this season! May the Lord use the month ahead of us to prepare our hearts for His coming and to draw us closer and closer to Him.
What does Advent look like in your home? Do you observe Advent? How? What are your plans for this year? Will you read along with us in the weekly devotionals we have coming up?